2.55 Chanel. The bag, the dream.
7:22 PM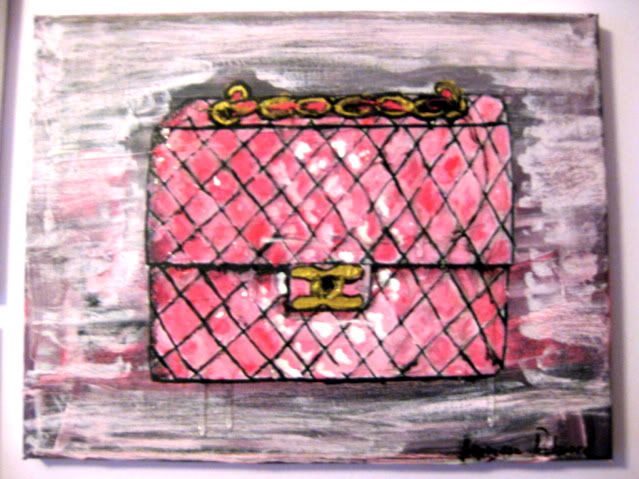 Acrylic on canvas
Acrílico en lienzo
Nuevos cuadros a la venta en mi tienda de Etsy.
Quería aprovechar para daros a tod@s las gracias por vuestros, mails, comentarios y apoyo! Todos y cada uno de ellos me hace mucha ilusión!
Últimamente no me dejan de llegar mails, pidiéndome que haga ilustraciones gratis para blogs! Aunque no todo el mundo lo hace!
Muchos entienden que ésto es un trabajo y requiere de esfuerzo, tiempo y dinero.
No puedo ir regalando ilustraciones, primero, porque, sería una falta de respeto a las bloggers, empresas y demás clientes particulares, que me las encargan y las pagan.
Y segundo porque no tengo tiempo, si leeis mi perfil, vereis que no es mi único trabajo. Cuando alguien me encarga una ilustración, tiene un tiempo de espera de mínimo 15 días.
Sé que a algunas personas pueden resultar caras, porque estudiais, o porque teneis otras prioridades, por eso mismo hice el sorteo el otro día.
Qué regale una de vez en cuando y mediante sorteo, no quiere decir que lo haga siempre.
Quizás explique el proceso de realización de una ilustración o de una pintura, quizás así me comprendereis algo mejor, pero eso será otro día!
Buen comienzo de semana a tod@s!!!